All About the Marsal Wave Pizza Oven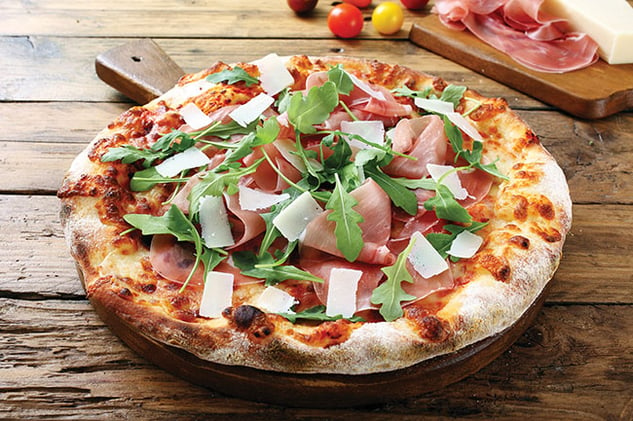 Pizza enthusiasts crave a big slice of fresh, crisp, hot, and delicious pizza. They long to tear into and devour a piece of thick, deep-dish style crust with freshly prepared sauce, fresh herbs, and lots of tasty, chewy mozzarella cheese. And yes, the entire pizza should be baked to bubbling perfection in a traditional wood-burning oven.
Let's face it. At 750-degrees, wood burning-ovens produce a perfectly baked, crispy crust with a uniquely delicious flavor. Ooh… That pizza hits all the right spots. So, it's back to trucking firewood and smoky kitchens? Well, no.
Thanks to the revolutionary Wave Pizza Oven from Marsal, the intense baking experience of a traditional oven is now achievable without burning wood.
The Wave Flame Brick Oven uses an innovative firebrick-lined chamber to create an intense wave of heat that bakes pizza like a wood-burning oven.
Seeing is believing: See the Wave Flame Oven in action!
An Old-World Style Flame Oven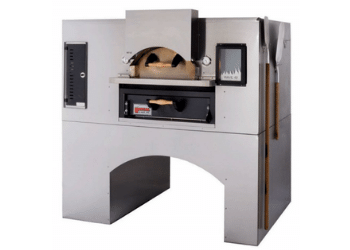 Modeled after the successful gas-fired ovens, the Wave Oven comes with Marsal's signature cooking surface that puts a burner directly underneath each pizza. The unique baking chamber is lined with refractory bricks and paired with an extra side burner.
The bricks reflect the heat at the top of the baking chamber back to the baking deck to cook the crust from both sides. The high heat reduces cooking time while producing crispier, evenly cooked crust with an authentic brick oven flavor.
By absorbing moisture, the brick surface radiates an even dry heat which coupled with the innovative wave of heat blasts the pizza with exceptionally high heat. That lets you delight your customers with hot, delicious pizzas with a crispy crust, and an old-world bake.
What's more, the exceptional engineering of the air chamber eliminates hotspots, saving you the hassle of spinning or rotating pizzas as they cook. Baking pizza has never been easier with this gas-fired oven with a special baking chamber.
Stylish, Customizable Pizza Oven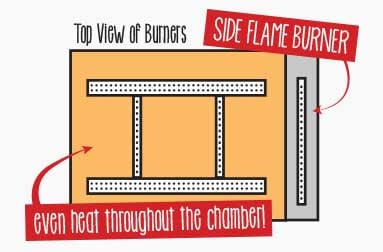 Each Wave Oven features a left-to-right burner arrangement coupled with a visible 40,000 BTU side burner. The arrangement produces temperatures of over 900°F on the right side of the oven and creates the wave heat effect.
Independent temperature controls for both burners and an integrated thermometer gives you precise control over the baking process.
Each Wave oven mirrors the perfection and practicality of an old-world oven. The baking chamber sports the arched, open door of the traditional wood oven. Despite resembling and baking like an old-world oven, this gas-fired oven has all the modern trimming.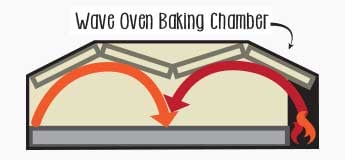 It comes with a rear ¾ gas connection, thermostat, a safety valve, and a flame viewing window showing off the side burners. Now you can wow your customers by having them watch as the raw ingredients morph into a mouthwatering delight in three minutes.
Durable, heavyset legs let you adjust the oven's height in a few tweaks. So, you can churn out perfect, delicious pizzas with an old-world flavor all day, every day, without throwing your back.
Beautiful, stylish, and efficient, choose between a flat top or the signature Marsal dome to give your restaurant's décor and style. Each unit comes with a durable steel exterior and ships unfinished, so you can customize it to complement your existing kitchen décor.
Hot Tip: See and download the full brochure here.
Marsal Ovens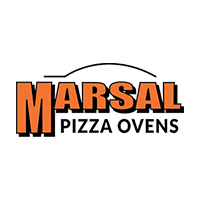 A 40-year veteran in the oven manufacturing scene, Marsal is an innovative force at the forefront of revolutionizing the pizza industry. The company produces fine quality pizza ovens to let you corner the food market.
Marsal couples superb engineering with innovative technology to create a range of beautiful, powerful, and efficient pizza ovens. With Marsal pizza oven, you can deliver the crispy, delicious, and authentic pizzas the market craves.
Would you like to schedule a time to see a Marsal Wave oven in-person? Maybe eat some pie together? Schedule a free assessment and connect with a team member today!