The Advantages of Using a Blodgett Ventless Convection Oven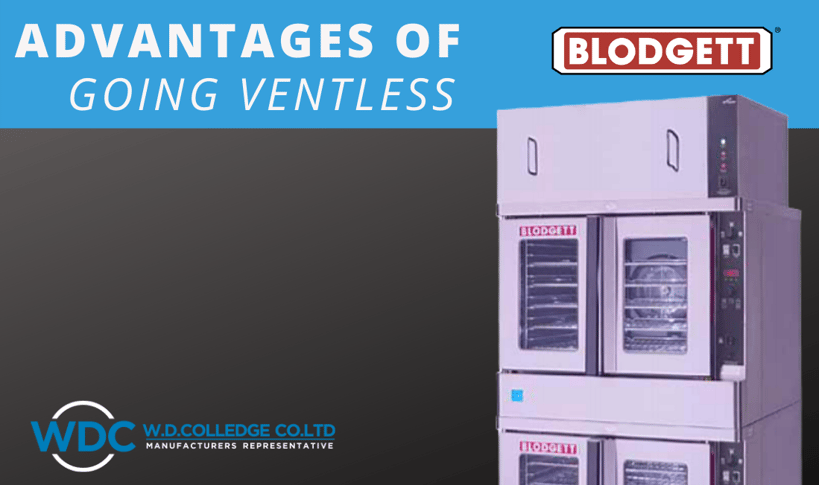 One of the biggest and hottest trends in the foodservice industry is a move towards smaller kitchens and larger seating areas. As business owners and operators search for creative ways to increase sales and profits, one of the hottest products in the industry is ventless cooking equipment.

Ventless cooking has steadily grown in popularity among people in the foodservice world because it allows operators to do more with their space. Ventless kitchen appliances provide versatility. Instead of needing a hood to cook like traditional appliances, many units are now available in ventless options.
Not only do ventless options offer versatility, but the installation is more straightforward and could possibly be less expensive than adding in structural ductwork. Simply plug the appliance into a wall outlet and the unit is ready for use without the need for a traditional vented hood and the associated ductwork.
Introducing Blodgett Ventless Convection Ovens with Hoodini Ventilation System
Blodgett is one of the leading manufacturers of commercial convection ovens in the world, with a reputation for quality and durability. Built to meet the highest standards possible, Blodgett commercial kitchen products are reliable and known for their long-lasting service.
Known for the quality of their equipment, Blodgett combines state-of-the-art technology and innovation into the manufacturing of their convection ovens. The Hoodini ventilation system is a prime example of this. Hoodini technology enables you to break free from the constraints of a traditional hood ventilation system, allowing for the versatility and comfort of designing your kitchen in a way that works best for you, giving you the ability to operate virtually anywhere without the need for an expensive commercial hood system.
Save on Space and Energy Costs
Blodgett ventless convection ovens give you options by enabling you to consider real estate without being concerned with an existing commercial hood system or the installation of a new one. The Hoodini ventilation system saves valuable space in an existing kitchen or when designing a new one.
Commercial hood systems typically average between $964 and $1174 per linear foot and require regular maintenance. By going ventless, it enables you the ability to save thousands of dollars on the installation and maintenance fees associated with a traditional commercial hood system.
Additionally, traditional hood ventilation systems use an immense amount of energy and are costly to operate. Ventless convection ovens consume considerably less energy, helping you to save money on utilities while decreasing your business's carbon footprint.
How the Hoodini Ventilation System Works
The Hoodini ventilation system's efficient operation is due to its innovative design. A fan pulls air into the unit and circulates it along a catalytic converter. The excess air is pulled into the hood then drawn through a filter by a second fan, which then exhausts the filtered air out of the back of the unit.
Not only are these ovens cost effective, they are also very easy to operate. To get started, simply turn the convection oven on and then flip the switch on your Hoodini ventilation system. When the oven is ready for use, a green indicator on the cabinet front will light to inform you.
In addition, the user-friendly design takes the guesswork out of maintenance by alerting you when it is time for you to replace the filter in your Hoodini and order a replacement for your spare filter. At the same time, a red light indicator shows when the filter is full and inoperable.
Experience the Benefits of Going with Blodgett
Today's foodservice industry is more complex and competitive than ever. One of the biggest trends the industry has seen is the reallocation of space from the kitchen area to the front of the house, setting up the use of ventless technology to create innovative and versatile kitchen designs. Blodgett convection ovens complete with the Hoodini ventilation system are an ideal solution for expanding an existing kitchen as well as for use in a non-traditional space.
Interested in learning more about how Blodgett's ventless options can assist with your commercial kitchen needs? W.D. Colledge is here to help you select the right ventless foodservice equipment to meet your unique challenges, so schedule a free foodservice equipment assessment today.