7 Products to Bring the Back of the House to the Front this Summer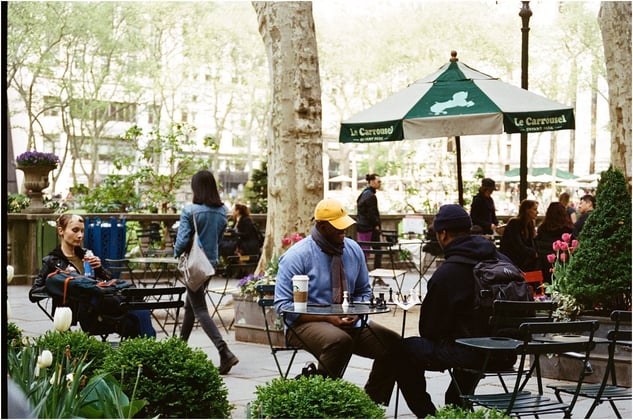 At long last, bars and restaurants are reopening in Canada. As consumers begin to reunite with family and friends, there is extra pressure on restaurants to make their post-pandemic reunions more memorable and meaningful than ever. Bringing "back of the house" cooking in front of guests is a great way to add intrigue and human connection to modern-day dining experiences.
Not only is this potentially a new experience for guests, but it brings transparency and trust to the cooking process. As an added bonus, staff has to do less legwork transporting food from the kitchen to tables.
Here are seven front-of-house products to bring your customers closer to your business than ever.
Ventless Griddles from Evo
Restaurants' front-of-house operations are often limited by the need for clunky equipment. Exhaust, grease, and smoke need to be rerouted away from the dining area, necessitating large vents or hoods. These unsightly and non-portable items would make griddle use impossible if it weren't for Evo's ventless variety.
These sleek and ready-to-move pieces have a built-in vent, which absorbs exhaust and releases a low-to-ground stream of clean air. They are easy to wash and even easier to show off, bringing guests close to the action.
The Bakers Pride Electric Pizza Ovens
The only thing better than fresh-baked pizza is pizza that's fresh-baked right before your eyes. Bakers Pride Electric Pizza Ovens provide the same quality bakes as gas varieties, with less elaborate configurations and a more transferable design. Built on top of wheels, these heavy-duty ovens can still bring an intimate feel to each and every table.
Best of all, these pieces are customizable — able to perfectly suit the capacity and layout of your restaurant
Mibrasa Charcoal Grills
Mibrasa's take on the charcoal grill honors the traditional feeling of campfire cooking while giving chefs optimum control. Designed to hone in on the ideal cooking temperatures and perfectly distribute smoke, campfire flavor can be infused at a restaurant's rapid-fire pace.
Option casters help the metal grills easily be moved — from front of restaurant demonstrations to patio grill-outs.
Deck Ovens from Bakers Pride
Bakers Pride is upping your pizza game once again with its collection of deck ovens. These diverse appliances cater to your restaurant's needs and style — whether you prefer gas or electric, big or small. With tabletop and stackable options, you can optimize your space and churn out quality bakes, faster than ever.
Their compact design and sleek look also mean that you don't need to keep them hidden away. Let the customers get in on the magic by displaying one of these ovens on your restaurant patio.
U-Line Outdoor Collection
U-Line's Outdoor Collection brings the durability needed to withstand the elements while maintaining a style worthy of your restaurant's entryway. These compact fridges and dispensers will make customers feel at home, ready to grab a beer and relax.
These small and discrete coolers also serve as an excellent accompaniment to front-of-house grilling demonstrations. Chilled ingredients can be kept close at hand, allowing for smooth transitions and putting freshness on display.
BM23HC-B Beer Dispenser
What's cooler than a Batmobile? A barmobile. The BM23HC-B Beer Dispenser puts the party on wheels, allowing your restaurant staff to fill up customers' glasses in the sleekest way possible.
The high-tech machine includes a 3-in-1 Draft Solution while providing a refrigerated, anti-bacterial storage unit for your most in-demand beverages.
Sally, the Magic Meal Robot
Last but not least is Sally, a compact box robot capable of crafting salads, bowls, and snacks. Not only is Sally an intriguing tech innovation, but she's highly portable. Set atop wheels, Sally can be easily located to tables to create made-to-order appetizers. Her talent and novelty make her an excellent chef... and an even better talking point that will keep customers coming back for more.
We'd love to work with you to ready your restaurant or bar for summer dining. Connect with a helpful WDC character to start today.