Holiday Recipes from the W.D. Colledge Culinary Team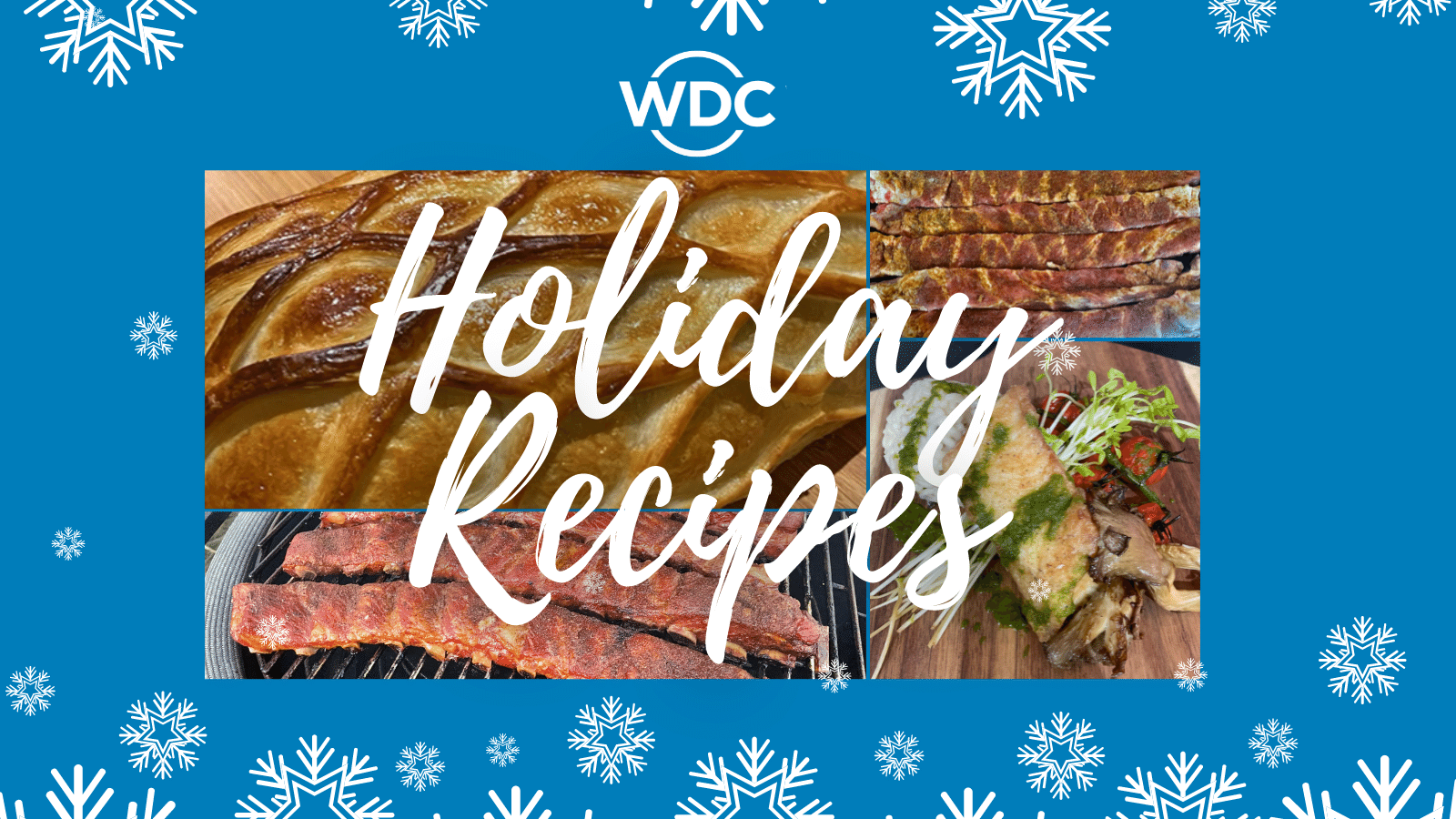 When our chefs aren't in the W.D. Colledge test kitchen experimenting with new flavour combinations, or dressing up in silly costumes, they are preparing incredible meals at home. During the holiday season, these dishes are more than just a dinner, they bring family together to celebrate traditions. Our chefs were nice enough to share some of their favourite holiday recipes. We hope you'll try a few of these next holiday season!
CHEF DAN FRENETTE
For the holidays, I love to make Beef Wellington for the family. I don't use Prosciutto as my wife is allergic to pork, so instead, I used crepes.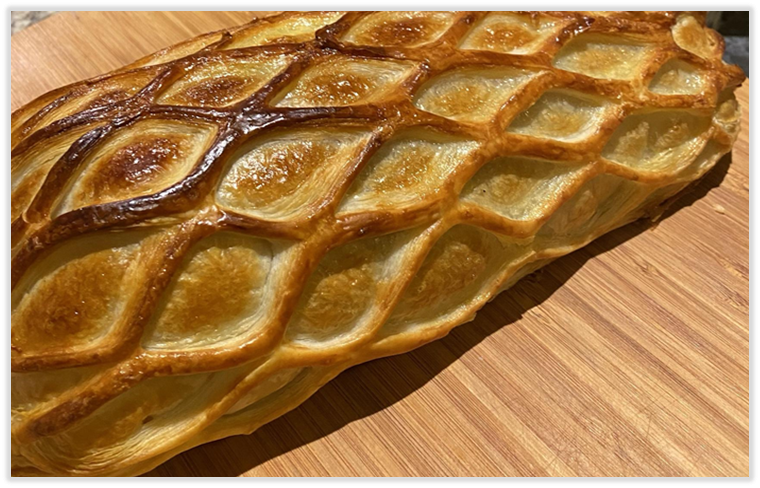 BEEF WELLINGTON
Ingredients
For the beef:
3 lbs beef tenderloin (centre cut)
3 pints or 1.5 lbs of cremini mushrooms
6 cloves of garlic
3 shallots
6 sprigs of thyme
A few tbsp English mustard
½ stick of butter
2 sheets of puff pastry
3 egg yolks
4 crepes
1 tbsp milk
Salt and pepper
For the sauce:
2L beef stock
500mL red wine
1 tbsp brown sugar
1 tbsp lemon juice
2 sprigs thyme
Salt and pepper
½ stick butter – room temp
1 tbsp flour
Preparation
Season the beef thoroughly with salt and pepper then wrap tightly in cling film then rest in the fridge for 24 hours. This will create the round shape and allow the seasoning to penetrate the meat.
Remove cling film and sear meat in oil and butter on all sides on medium-high heat then cool in the fridge.
Thinly coat all of the meat with the English mustard then wrap in cling film again and let rest for 2 hours
Make the Duxelles
Using a food processor, finely mince the shallots and garlic then reserve
Using a food processor, finely mince all of the mushrooms
Finely chop the thyme
Slowly cook the shallots, garlic, and mushrooms in ½ stick of butter for approx. two hours then finish with thyme. Make sure all water has been cooked out. If done correctly, the mushrooms should resemble rich soil.
Adjust seasoning and let cool
Assembly
Line your work surface with cling film
Place a sheet of puff pastry on top of cling film.
Lay the 4 crepes on the pastry so that they will easily wrap around the beef when rolled. This is a very important step as it protects the pastry from any remaining moisture and turning soggy.
Spread the duxelles evenly over the crepes. Make sure you create a perfect square and that the duxelles will evenly coat the entirety of the meat once rolled up
Place the beef in the centre of the duxelles then roll the crepes and pastry around the beef using the cling film. Make sure it is rolled tightly and all the excess pastry has been removed before tucking in the edges. Wrap tightly with cling film and let rest in the fridge for 1 hour
Lay the second sheet of puff pastry on a clean, well-floured surface
Using a lattice pastry cutter, cut the pastry to the desired size to wrap around the Wellington.
Mix the egg yolks and milk together
Remove Wellington from cling film and evenly coat with egg wash
Lay the Wellington on top of the lattice-cut pastry and gently roll. Remove excess pastry then coat lattice evenly with egg wash.
Place Wellington on a parchment-lined baking sheet and cook at 425F until the internal temp reads 118F. Let rest for 30 minutes
Sauce
Combine the stock, brown sugar, and red wine in a saucepan and reduce by 80%
Mix flour and room temp butter to paste and whisk into sauce
Return to boil and cook for a few minutes until flour has been cooked out
Add lemon juice
Finely chop the thyme and add to sauce
Let rest for 10 minutes before straining through a fine strainer
Adjust seasoning
Enjoy!
CHEF DAVE WILSON
Here is one of my holiday favorites. Inspired by a Jamie Oliver recipe but tweaked slightly.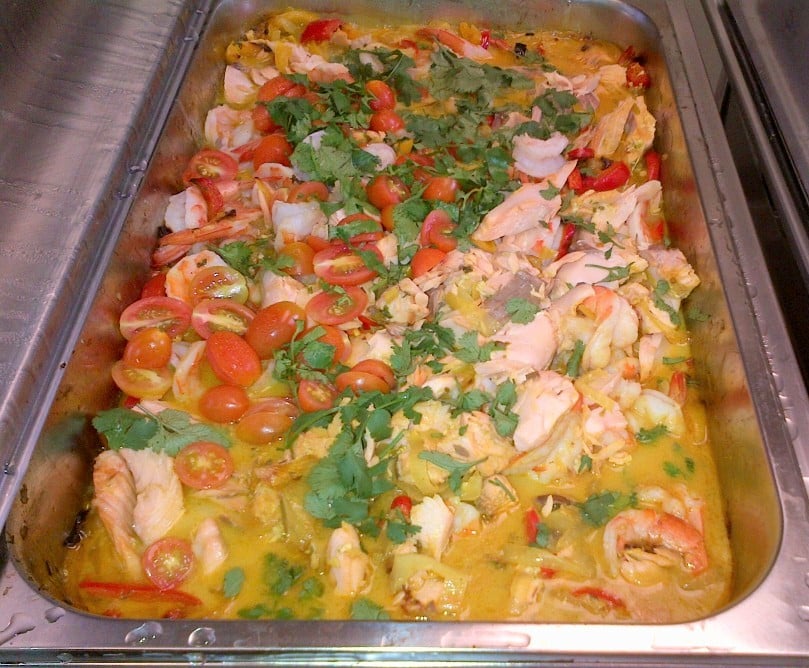 SALMON, SHRIMP & SCALLOP CURRY BAKE
Ingredients
2 large sweet onions
1 bunch Green onions
4 cloves garlic
1 tbsp fresh ginger
2 fresh red chilies – no seeds
1 large bunch fresh coriander
1 red pepper
1 yellow pepper
1 orange pepper
Sunflower Oil
2 tsp brown mustard seeds
2 tsp fennel seeds
6 ea curry leaves if available, or 2 tbsp curry powder, if no leaves available
1 side of salmon – (between 1 and 1.75 kg) pin boned and descaled
Sea salt
Fresh ground pepper
Olive oil
300 grams grape tomatoes
24 to 30 – 16/20 peeled raw shrimp
200 grams of small sea scallops
(2) 400 ml cans coconut milk
4 lemons
Method
Preheat oven to 325 F. Peel and finely slice the onions, garlic, and ginger.
Finely slice the chilies and coriander stalks (Leaves will be used for garnish). Slice peppers into strips, discard the seeds.
Use a large frypan over medium-high heat and add 1 tbsp sunflower oil. Add the spices and curry leaves (or powder). Fry for 2 minutes - then add the chopped veggies, garlic, and coriander stalks, as well as, more oil if necessary. Cook for about 15 minutes, or until soft, stirring occasionally
Transfer the cooked curried vegetables to a roasting tray large enough to hold the side of salmon. Place the salmon into the tray,
Skin side down. Season with salt and pepper and drizzle with olive oil. Carefully turn the salmon skin side up and place the tray in the oven for around 20 minutes, or until the salmon is almost cooked through.
While the salmon is cooking, quarter the tomatoes. Peel and butterfly the shrimp. Chop the green onions (for garnish, set aside)
When salmon timer is done, remove the tray from the oven. Carefully peel the skin off the salmon and place it onto a piece of tin foil.
Add the coconut milk, shrimp, scallops, tomatoes, and the zest and juice from 1 lemon around the salmon.
Return the tray to the oven and bake another 5- 7 minutes until shrimps are cooked. When done, use a large spoon to break the salmon into big chunks.
Stir and incorporate all ingredients. Season the sauce to taste with salt and pepper and more lemon juice if needed.
Garnish with green onions and cilantro leaves as well as crispy salmon skin if you so choose. Serve right out of the roasting tray with rice and Naan breads.
Crispy Salmon skin option:
After removing cooked salmon from oven, set your oven to 500 F-degree broil. Place the salmon skin (on the tin foil) under the broiler to crisp up. Around 5 minutes, check often as it turns quickly. Once crispy, let cool. Snap up and scatter over dish prior to serving.
CHEF GABRIEL SANTOS
STRIP LOIN ROAST
Ingredients
4 lb (2 kg) Beef Strip Loin Premium Oven Roast ¼ cup (50 mL) minced fresh parsley
Coarse salt and pepper, to taste
Olive oil and butter
Wine Sauce
6-8 shallots, minced
1 pint mushrooms (of your choice)
2 cups red wine
2 cups beef broth
2 tbsp butter
2 tbsp cornstarch
Bouquet garni with thyme, rosemary, and sage
POTATOES DAUPHINOISE
Ingredients
1.5-2 kg pounds Yukon Gold potatoes
2 tbsp butter
250g Gruyere cheese (grated)
3 garlic minced or sliced
1 cup heavy cream
2 cups whole milk
2 dry bay leaves
Coarse salt, pepper, and nutmeg, to taste
Roast and Sauce Instructions
Set the oven at 320F (baking mode). Rub the roast with salt and pepper. If you have a large frypan, sear all sides of the roast with olive oil and butter. Use thyme with the butter if you have some. When all sides are seared, place the roast directly in the oven rack with a tray under it to catch the drippings. If you don't have a pan, set the oven at 425ºF (roast mode) and sear the roast in the oven. Drop the temperature to 320ºF right after. If you use this method, remove the roast from the oven and let it cool down from 425ºF to 320ºF. The roast will be done when the internal temperature is 130ºF. Once it's done, remove it from the oven and wrap it with aluminum foil.
In the same pan, add more olive oil and butter if necessary and add the shallots, when they start to caramelize, add the mushrooms. Once they are both soft, add the wine and reduce it to half. Add the bouquet garni and the beef broth with the cornstarch. Reduce the sauce until it's close to the texture you want, add 1 tbsp of cold butter before serving.
Potatoes Dauphinoise Instructions
If your potatoes look good with skin on, keep it. If not, peel them and remove any blemishes. Use a food processor to slice them thin. In a large pot simmer the cream, the milk, the garlic, the bay leaves with salt, pepper, and nutmeg. Add the potatoes and stir them gently until they are fork-tender. Remove it from the heat and add the cheese. With a slotted spoon transfer the potatoes to a baking dish spreading it to have some layers, it doesn't need to be perfect. Once you have the layers, pour the milk on top and bring it to the oven at 375ºF for about 20 min, at the end, turn on the roast mode and caramelize the top of it. Let it cool for at least 15 minutes before serving.
CHEF MIKAEL OTTONI
Our tradition on Christmas Eve is that we do not eat any meat. In most cases, we have every family member make a seafood or fish dish and we feast. I usually make my fried cod, one of my favourite comfort foods.
Afterward, we used to always crave a type of meat and when I was young, at the stroke of midnight, we would eat leftover meats in my grandmother's fridge! So, I have some smoked short ribs running in the background that can satisfy your midnight cravings.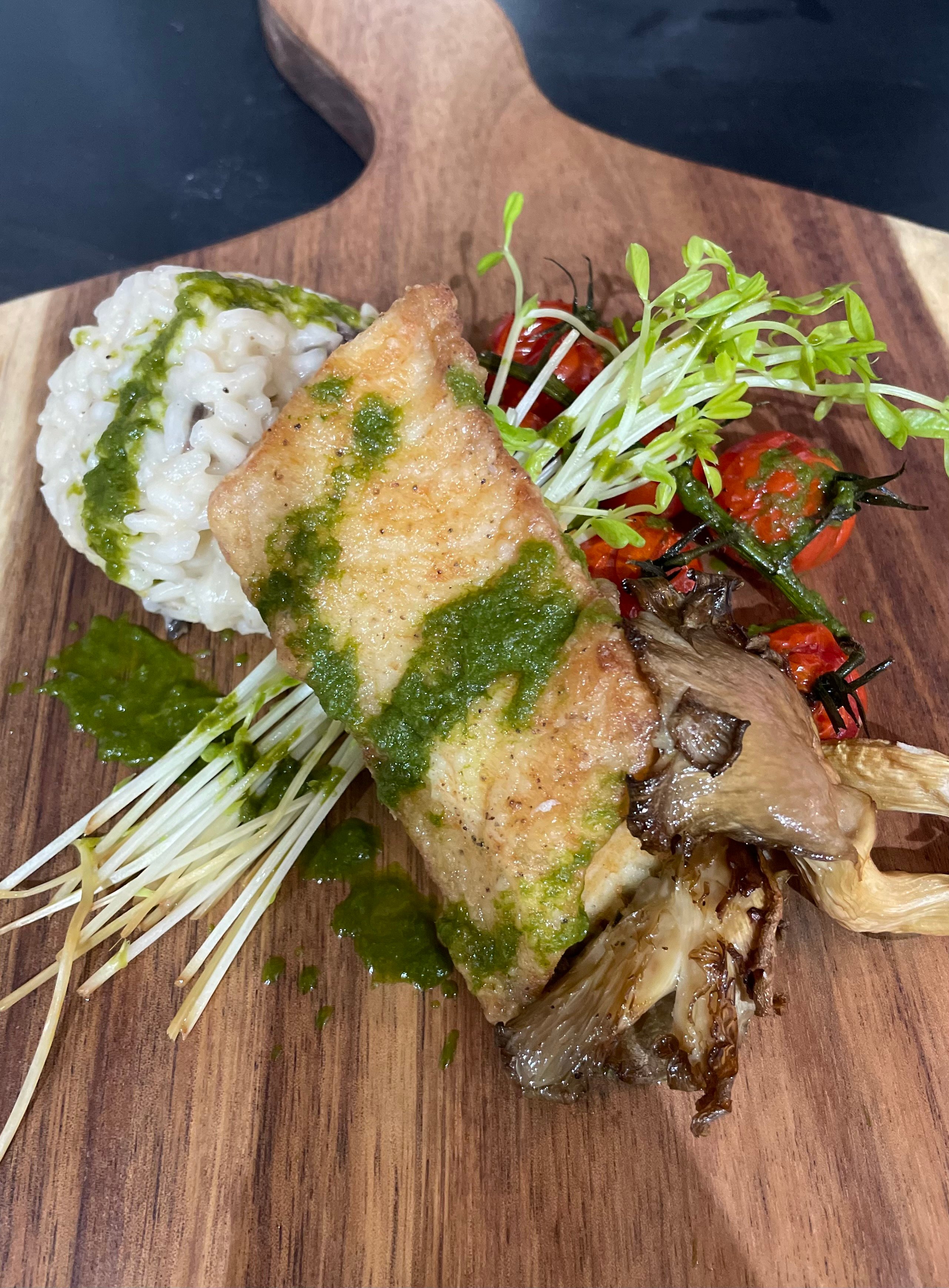 MUSHROOM RISOTTO
Ingredients
6 cups chicken broth

2 tbsp butter

1 lb mushroom (I used Oyster)

1 onion finely diced

1 ½ cups Arborio Rice

½ cup white wine

Salt + pepper for taste

1/3 cup parmesan

1 orange zest
Instructions
Sweat onions in butter (salt + pepper)
Add mushrooms and saute until golden brown (salt + pepper)
Add arborio rice and mix in
Add 1 cup of chicken broth gradually, continue mixing
Repeat process for about 15-20mins until Risotto is fully cooked and creamy
Add parmesan cheese, more butter if you desire and orange zest + rectify to taste
FRIED COD
Cut cod into individual portions, add salt + pepper

Dust in flour

Fry in a pan 2 mins each side at 300F oil (thermometer helps)

Roasted vegetables can be added to this as well
SMOKED RIBS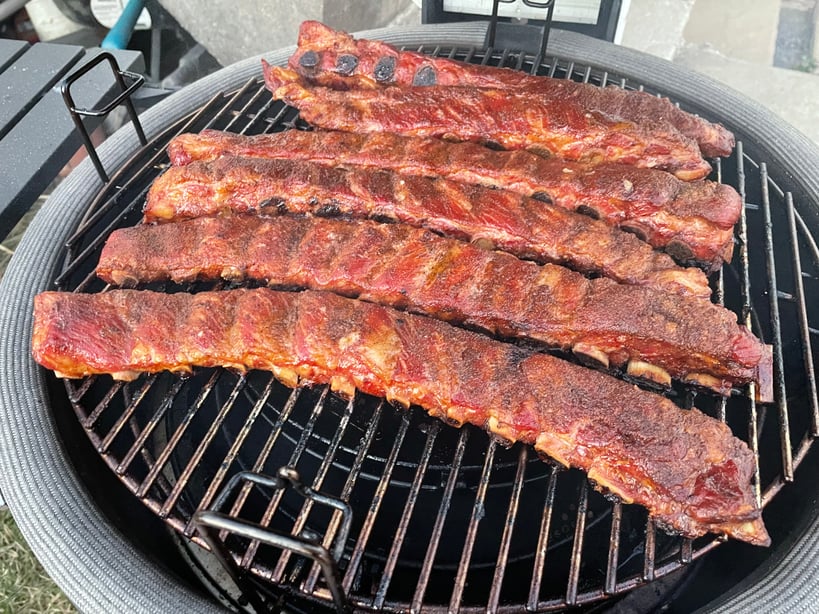 Ingredients
Dry Rub
3 tbsp brown sugar
3 tbsp smoked paprika
2 tbsp salt
1 tbsp black pepper
2 tsp garlic powder
2 tsp onion powder
1 tsp cumin
1 tsp cayenne pepper
Instructions
Smoke the ribs at 185-200ºF for 6-7 hours
Spray with Apple Juice or water every hour
Happy Holidays!
These holiday dishes are just a small taste of what our chef team is able to help you design for your holiday menus next year, with the equipment designed to do it. Set up a free assessment with our team to learn more!