Coronation Chicken . . . With a Canadian Twist!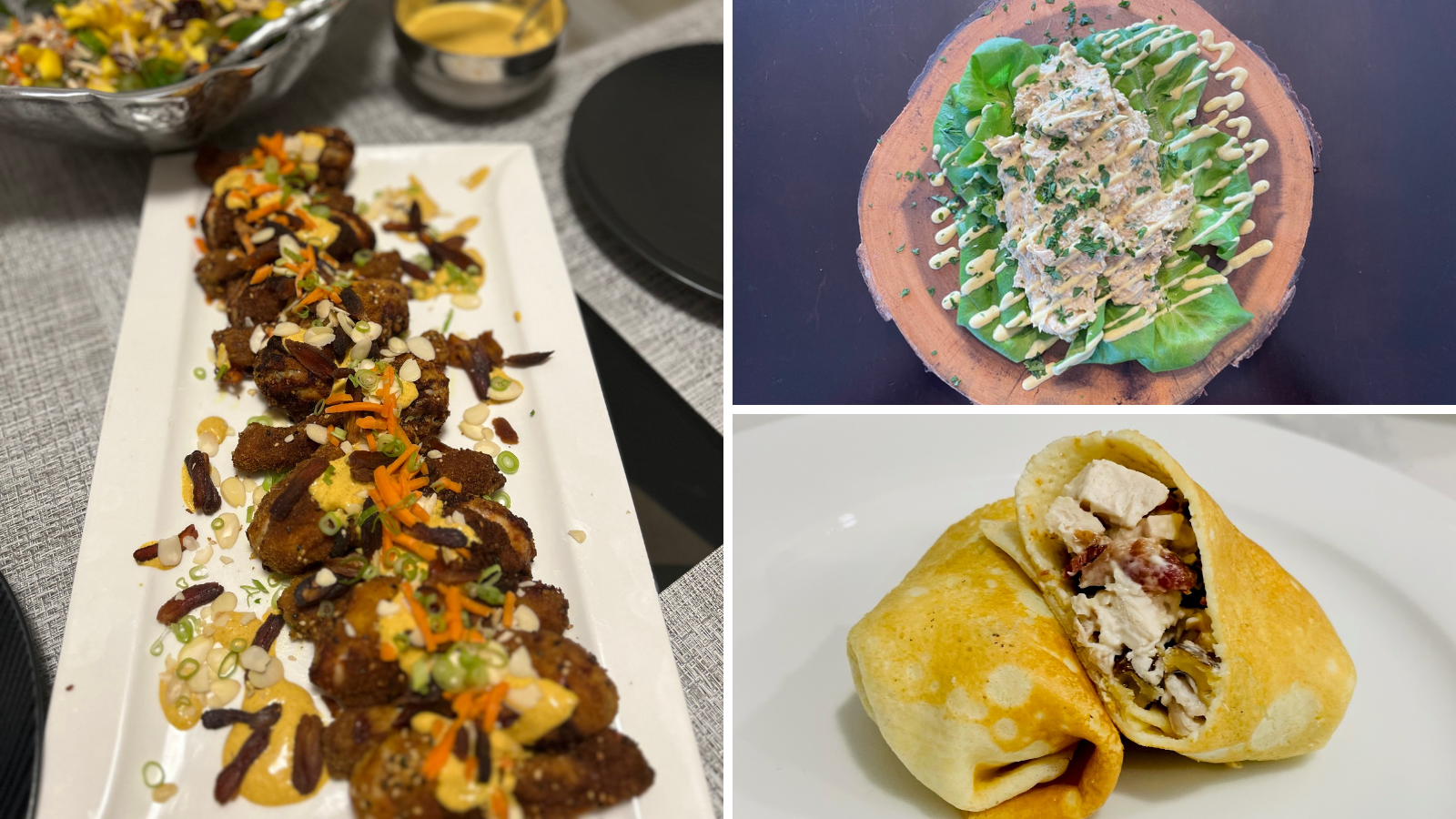 There's something about tradition. Cottage culture, the St. Patrick's Day parade in Montreal, May 2-4, and the Calgary Stampede are all traditions that stand tall in Canada. But there's also time to turn tradition on its head to help modernize it to appeal to more people. One of those things we decided to take a twist on? Coronation chicken!
What is Coronation Chicken?
Created in 1953 for Queen Elizabeth II's crowning, coronation chicken is a dish similar to chicken salad and made with curry, lemon juice, red wine, and poached chicken and served on a bed of lettuce. Originally a collaboration between the Le Cordon Bleu director and one of its students, the dish has become a staple in British households and even has shown up in some quick service restaurants.
Coronation Chicken With a WDC Twist
Here at W.D. Colledge, we love food and we love to put our own spin on things. So with the May 6, 2023 coronation of King Charles III fastly approaching, we decided to ask four of our chefs to create their updated version of coronation chicken. Here's what they had to say and their recipes. Let us know which ones you're choosing for your celebrations!
Chris Williams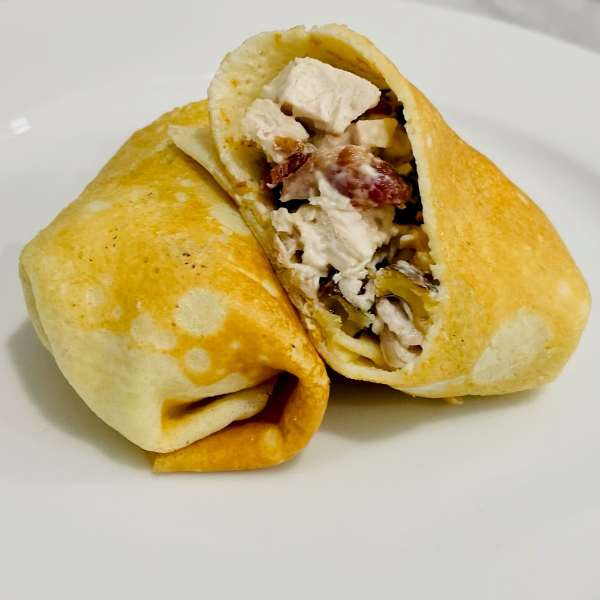 For my Canadian spin on this classic, I went with a sweet and savory maple bacon and chicken crepe. Pictures really didn't do it justice, lol!

Crepe Recipe Ingredients:

2 cups milk

4 large eggs

3 Tablespoons unsalted butter

1 Tablespoon granulated sugar

1 teaspoon vanilla extract

1 ½ cups all-purpose flour

Whisk milk, eggs, butter, sugar, vanilla, and flour in a bowl until the batter is smooth. Chill for 30 minutes.
Heat an 8" pan and ladle one spoonful at a time into the pan, spreading thinly. Cook about one minute per side or until golden. Set to the side.


Filling Ingredients:

2 chicken breasts

3 strips of cooked bacon

2 table spoons of maple syrup + plus extra to drizzle…

½ cup of dried cranberries

½ cup of chopped walnuts

1 cup mayonnaise

Steam chicken breasts for approximately 25 minutes and let cool. Chop into pieces that are around 1 cm. Dice bacon into small pieces. Combine chicken, bacon, and other ingredients in a bowl. Take a crepe, put in filling and roll up. Serve with warm maple syrup.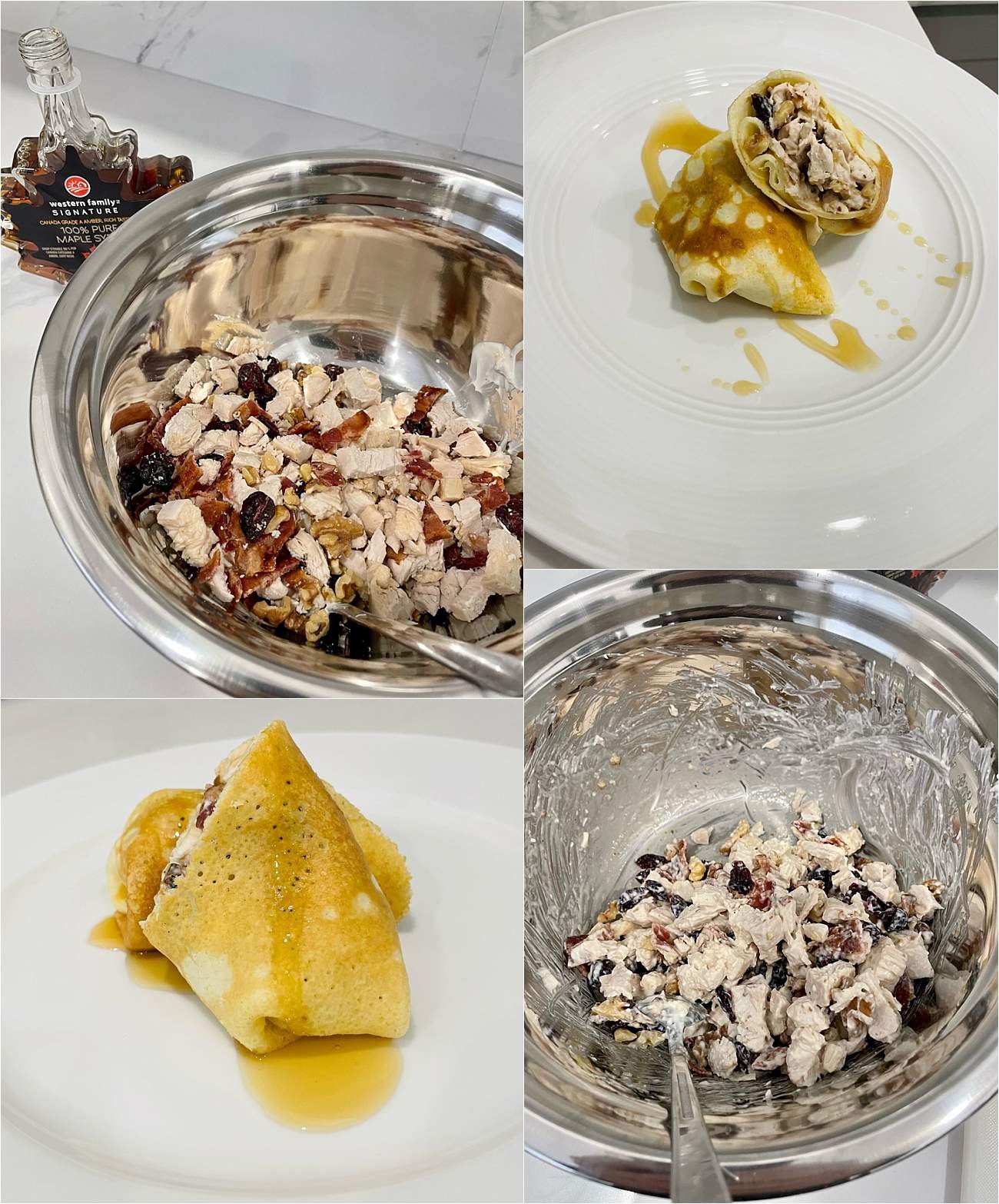 Dan Frenette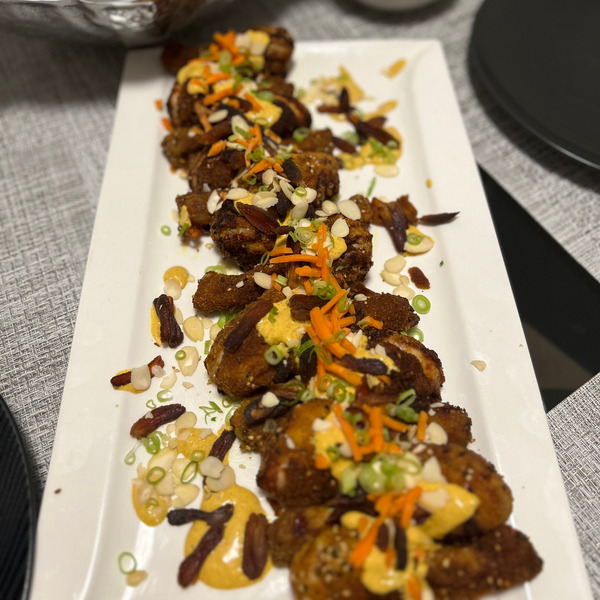 Ingredients:
For dredge:
2 tbsp roasted black and white sesame seeds
2 tbsp mild curry powder
1 tbsp granulated onion
1 tbsp kosher salt
1tbsp corn starch
1 cup plain bread crumbs
Mix all ingredients thoroughly
For chicken:
12 chicken drumsticks
2 tbsp olive oil
Coconut oil cooking spray
For sauce:
5 tbsp coconut yogurt
4 tbsp mayo
1 tbsp Dijon
½ tsp kosher salt
Zest of 1 lemon
Juice of ½ lemon
1 tbsp granulated onion
½ tbsp turmeric
2 tbsp old curry powder
1 tbsp honey
For garnish:
10 slices of dried apricots julienned
A few inches of julienned carrots
Sliced almonds
Sliced scallions
Mix together ingredients for the sauce in a small bowl and refrigerate. Then mix dredge ingredients together in a shallow pan.
Combine drumsticks and olive oil until evenly coated. Then take one drumstick at a time through the dredge to completely cover. Then lightly spray each coated piece with cooking spray.
Cook in an air fryer at 400 degrees or cook in an oven at 425 degrees. When each piece of chicken's internal temperature is 165 degrees, remove and place on a platter. Top with chilled sauce and garnish with apricots, carrots, almonds, and green onions.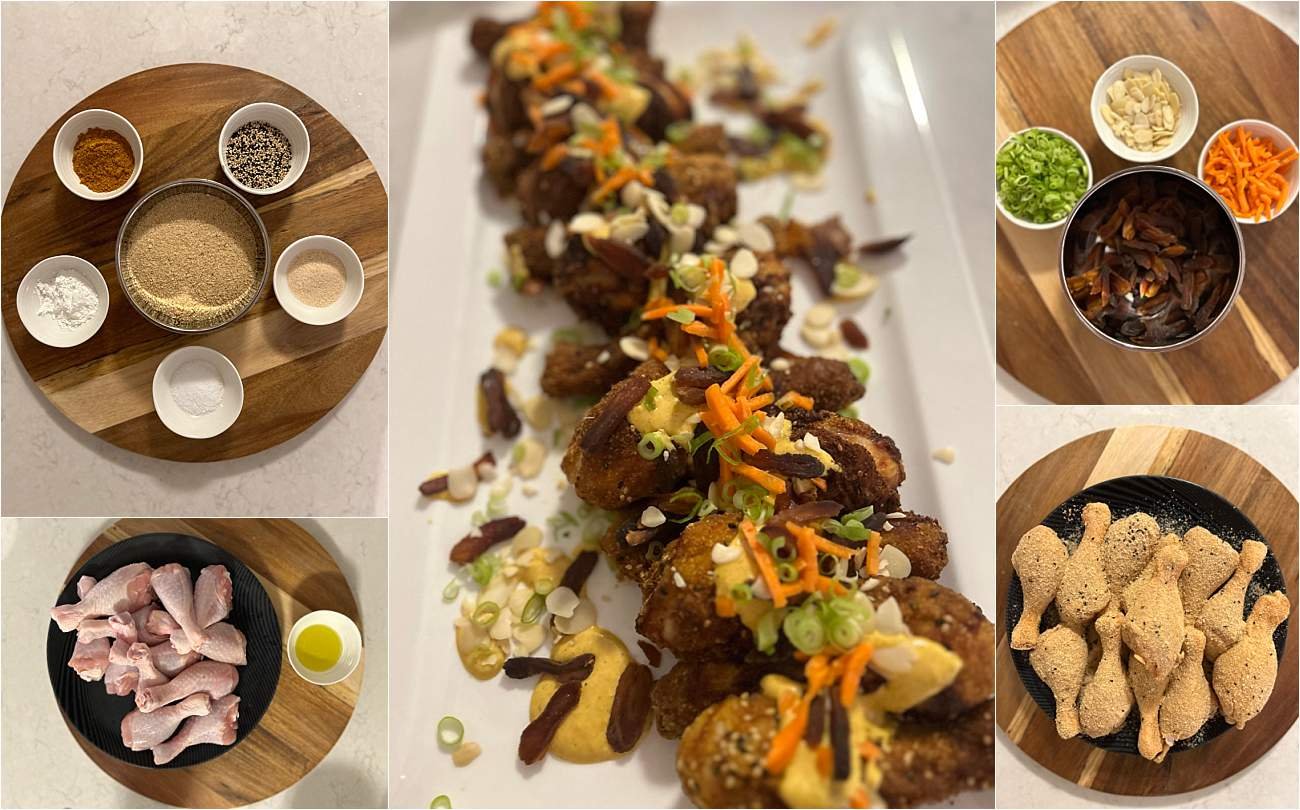 Gabriel Santos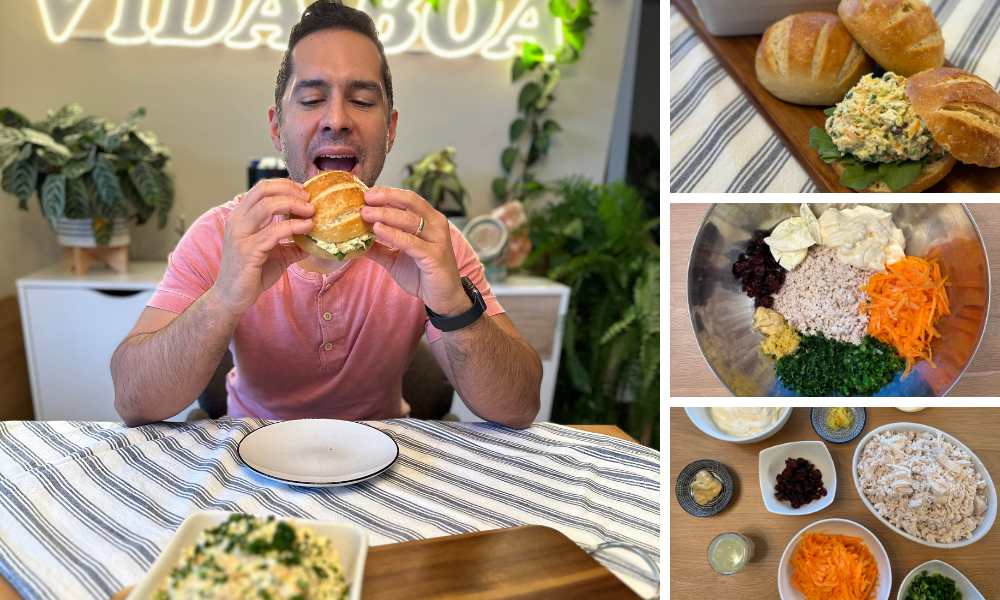 That was my first time cooking this dish, so I wanted to give not only a Canadian twist but also a Brazilian twist to honor my heritage.
Ingredients:
3 chicken breasts
2 bay leaves
1 cup of mayo
2 tbsp of heavy cream
1 tbsp of Dijon mustard
½ cup of shredded carrots
¼ cup of dry cranberries
Zest and juice of 1 lemon
¼ cup of chopped parsley
¼ cup of sliced green onions
Salt and pepper
Slider buns (approx. 6 depending on the size)
Boil a pot with salty water and the bay leaves. Once it boils, add the chicken until is completely cooked.
Once the chicken is cooked and cold, it can be pulled using a fork (for a chunky and more traditional result) or using a food processor (use pulse mode) if you want to save time and think life is short to pull chicken with a fork.
Mix all ingredients in a bowl and adjust salt and pepper at the end.
Gabriel's Note: As you can see, this recipe is quite different from the classic Coronation Chicken. I added the shredded carrots as well as the parsley and green onions to add more freshness to the recipe. I kept the sweet aspect of the recipe with the dry cranberries to add a bit of tartness to the recipe, along with with the lemon juice and zest. But the main difference of my recipe and the original is that I didn't use any type of curry.
Mikael Ottoni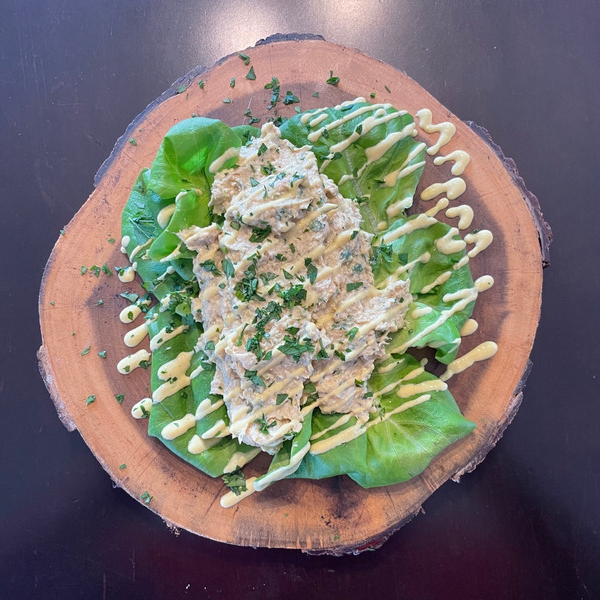 Ingredients:
350g Shredded Roasted Chicken
1 tbsp mango chutney
1 tsp curry powder
½ tsp cinnamon
1 tbsp chopped parsley
head of Boston Lettuce for wrap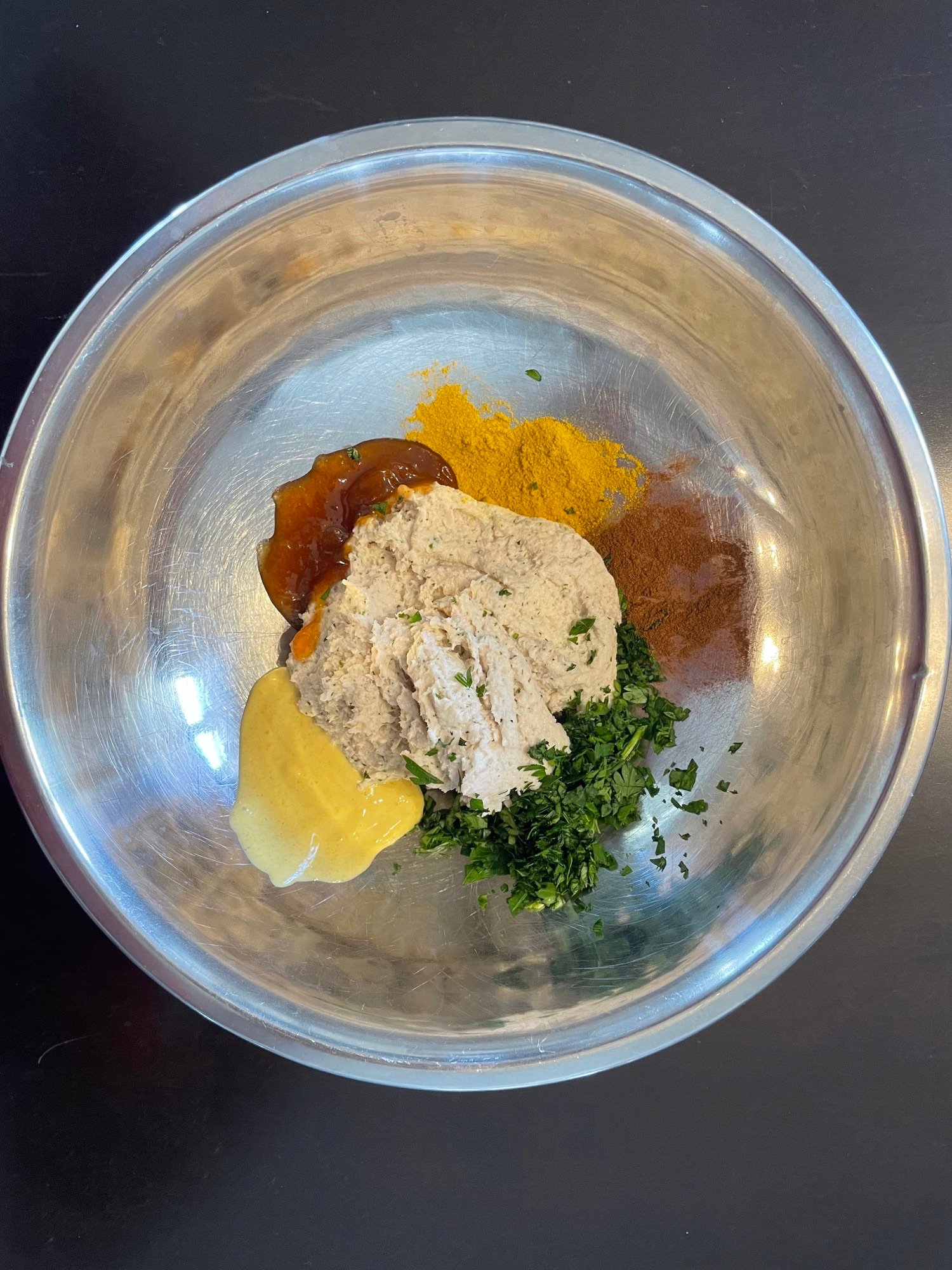 Curry Yogurt Sauce Ingredients
½ cup plain yogurt (can also use Greek yogurt as an alternative)
1 tsp curry powder
1 tsp sugar
Mix shredded chicken, chutney, curry powder, cinnamon, and parsley together in a bowl. Place one lettuce leaf on each plate and top with chicken mixture. Combine ingredients for the sauce and top the chicken mixture.
See how your foodservice business can put a Canadian twist on customer favorite - schedule a free equipment assessment with our team to get started!