Look for These 2020 Foodservice Trends in Canada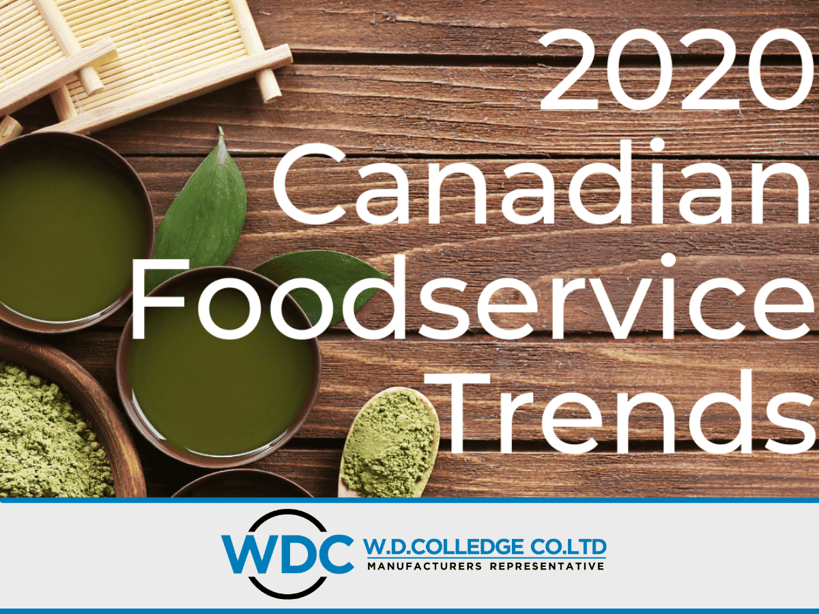 To thrive in the rapidly changing food service market, businesses must stay on top of what's new and newsworthy. The only way to be successful and remain relevant is to look ahead to what your clients' customer base expects, and provide products or services tailored to those trends.
Let's have a look at what the most popular 2020 Food Service Trends in Canada are, that you may or may not eventually see in your own space.
Wood-fire Cooking
According to the Restaurants Canada article, "Food and Restaurant Trends Changing How People Eat in 2020", wood-fire cooking is one of the hottest things for 2020. Originally reserved for pizza ovens, this trend has taken the "wood-as-fuel" concept into restaurant kitchens. Chefs have the freedom to experiment with a whole new level of flavour brought on by the different taste notes of different types of wood. The new generation wood-fire grills are smokeless, and the taste result is amazing.
Plant-based Protein
Today's consumers are more health-conscious than ever before, and where to get fresh food is a priority for most. Plant-infused beverages featuring superfood ingredients like matcha, yerba mate, camu camu, and spirulina have grown in popularity. Preparation and storage for these products make use of commercial refrigeration, blenders, smoothie machines, and drink service. Green packaging is required.
Gastrophysics is the term assigned to this new trend. The focus is on how food makes one feel, rather than on its role as pure sustenance. A growing consumer appetite for plant-based menu offerings and new flavours fuel the demand for ingredients that are both healthy and interesting. A society that wants to stay healthy on the go increases the demand for natural foods packaged in earth-friendly materials.
Non-alcoholic Cocktails
It's no surprise that consumers are more excited about non-alcoholic drinks than they have been in the past. New flavours enhance classic cocktails like the Hibiscus Tea Manhattan and the Kombucha-Infused Black Russian. Mixed without the addition of alcohol, these drinks are extremely popular with young and old, alike. Traditional barware and cocktail service is necessary to maintain the ambiance.
A Demand for Eco-friendly Packaging
With concerns about climate change on the rise, restaurants are looking for all sorts of ways to reduce waste. Cutting down on single-use items, and using packaging that is eco-friendly are efforts used by businesses to lessen their carbon footprints while saving money, as the zero-waste movement takes centre stage. Packaging that's kind to the planet is becoming increasingly important to this "grab-and-go" society, whose number one priority is sustainability.
Made from Scratch is Better
Diners are speaking up, and they want food products made from scratch. Fresh ingredients combined in innovative ways opens up the restaurant business to a whole new way of cooking, storing, and serving. This return to a more traditional way of food preparation means restaurants must equip themselves to keep up with a clientele that demands homemade meals.
High-Touch Tech
As consumers are more and more pressed for time, faster transactions are desired. Touch-screen self-ordering kiosks and table-side tablets are the new must-have technology for full-service restaurants. This new way of handling transactions not only saves time, it saves money and keeps errors at a minimum. Smartphone apps to order and pay inside the restaurant are on the horizon.
Multicultural Mashup
One of the most amazing things about Canada is how so many different cultures work so well together. For 2020, chefs will take cultural flavours to new heights as the options for creative expression in the restaurant kitchen are endless. Look for an exotic blending of food reflective of our landscape and culturally diverse roots.
The way people want to eat is what drives food service trends. With sustainable and healthy being key words in 2020, processing, equipment, and packaging must follow suit.
---