Introducing the New WD Colledge Website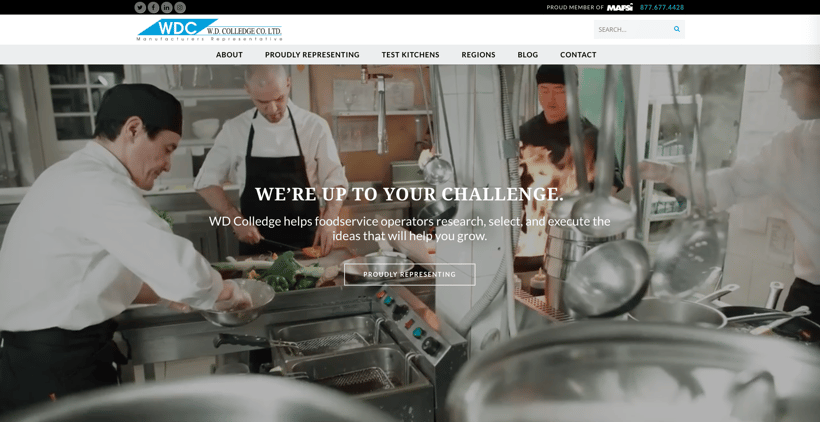 As you probably noticed, we have a new look around here. But while a snazzy new website is good from an aesthetic point of view, there's a function to our fashion. There's a method to our madness. And there's a reason for our digital upgrade, and that reason is you.
We surf the web just as much as you do. We know how important it is to Google the answers to your questions, and even more important, we know how annoying it can be to receive a ton of information you didn't even ask for.
And that's the reason for our new site.
We're changing our digital presence so we can help you find the foodservice equipment information you need as quickly as possible. And here's how we're going to do it:
BY OPERATION
If you operate a corporate cafeteria, you don't need to hear a bunch of information geared solely toward fine dining restaurants. Not only do you not need to hear it, you probably don't want to. Our new marketing efforts will break down content based on the type of operation you run.
[Tell us which foodservice operation best describes you.]
BY REGION
We live in a large, diverse nation with many different regions and cuisines. We also have WD Colledge foodservice equipment experts spread across these different regions. Our goal is to provide you regional info that can help you learn more about your unique area.
[Tell us which region you're in.]
BY INTEREST
At the end of the day, we all like reading different types of content, regardless of where we live or work. As part of our new content initiatives, we're going to create content based on your interests. Like wine? How about some content focused on bar and beverage? Like trends? What about ventless equipment options?
THANKS FOR LISTENING.
Thank you for taking some time out of your busy day to allow us to welcome you to our new website. We hope you find the information we're going to start providing to be useful, entertaining, and hopefully fun. But we really need your help to make this happen.
Please take another minute to tell us more about what you want to read, hear, and watch. Click the link below, and answer a few important questions so we can better serve you.